El Dorado Hills Christmas Lights Installation
Get your Christmas lights from El Dorado Hills Christmas Light Installation.
Step into a timeless tradition with El Dorado Hills Christmas Light Installation as we introduce you to the enchanting world of garlands. Originating from ancient times, these decorative strands have a rich history. The Egyptians adorned their departed loved ones with garlands, believing they aided the journey to the afterlife. The Greeks, too, embraced garlands, using them to embellish buildings and banquet tables, infusing spaces with a touch of elegance and festivity. Today, the allure of garlands endures, and at El Dorado Hills Christmas Light Installation, we bring this age-old tradition to life with a myriad of Christmas ideas.
Explore a plethora of options to adorn your space with holiday charm. Whether you seek a classic and sophisticated look or a vibrant and festive atmosphere, our garlands offer a versatile canvas for your Christmas decorating dreams. From elegantly draped banisters to gracefully wrapped trees, the possibilities are endless. Let El Dorado Hills Christmas Light Installation be your guide to infusing your home or business with the timeless beauty and symbolic resonance of garlands in El Dorado Hills, creating a festive ambiance that transcends the ages.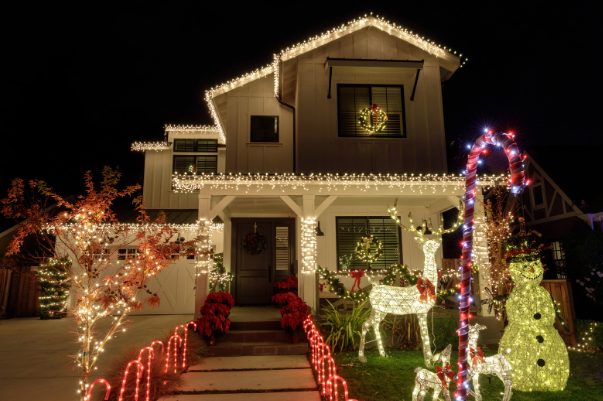 At El Dorado Hills Christmas Light Installation, our diverse selection of holiday garlands ensures that your festive decorations are as unique as your holiday spirit. Choose from an array of natural beauties, including the classic charm of pine, the aromatic allure of cedar, and the timeless elegance of holly. Embrace the enchanting fragrance of Frasier fir, or opt for the delicate softness of white pine. Our collection extends beyond traditional greenery to include thematic options, such as snowflake garlands, adding a whimsical touch to your seasonal decor. With a palette ranging from rich and earthy to crisp and frosty, our holiday garlands cater to every taste and theme. Let El Dorado Hills Christmas Light Installation be your go-to source for various garlands, each meticulously crafted to bring a touch of magic to your home or business this holiday season.
A Decoration That's Right For Your Home (or Business)
When choosing the best garlands for Christmas, the options are as diverse as the holiday traditions themselves. At El Dorado Hills Christmas Light Installation, we offer an array of choices to elevate your festive décor. Classic evergreen garlands bring a timeless elegance, evoking the nostalgic charm of yuletide celebrations. For a modern twist, consider pre-lit garlands, which add a warm and inviting glow to your space. These are perfect for creating a cozy ambiance, whether draped along the mantel or framing doorways.
If you're aiming for a whimsical touch, explore themed garlands adorned with ornaments, ribbons, or even pinecones. The versatility of our garland selection ensures that you can find the perfect match for your Christmas vision. At El Dorado Hills Christmas Light Installation, we also offer the option to light your garlands, turning them into radiant focal points that enhance the holiday spirit. Illuminate your space with the enchanting glow of Christmas lights intertwined with beautifully crafted garlands, creating a festive atmosphere that captivates both day and night. Let us guide you in choosing the best garlands that align with your style, ensuring a holiday décor that is both enchanting and uniquely yours.
El Dorado Hills Christmas Light Installation invites you to transform your holiday space with our diverse selection of garlands. Our collection offers a rich tapestry of options from the classic allure of pine and cedar to the festive charm of holly and Frasier fir. Whether you prefer the simplicity of white pine or the whimsy of snowflake garlands, we cater to every taste and style. Let our meticulously crafted garlands be the crowning touch to your seasonal decor, infusing your surroundings with the magic of the holidays. We also offer other services, including bush Christmas lights and fence line Christmas lights. Choose El Dorado Hills Christmas Light Installation for garlands that bring warmth, elegance, and a touch of enchantment to your festive celebrations.
Call (916) 776-5162.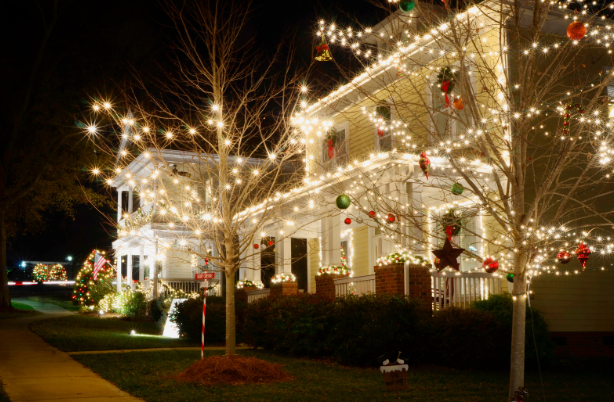 El Dorado Hills Christmas Light Installation provides 5-star service, with no waitlist, 24/7 availability, and the option to schedule ahead.
Our expertise lies in the seamless installation of lights, and we take pride in excelling at it. Leave the hassle and hard work to our capable hands, and we'll guarantee your Christmas lights are beautifully and safely set up, providing you with a stress-free and enchanting holiday season. With our skilled team taking charge of the lights, you can fully embrace the magic of the holidays without any worries or inconveniences.
Here are a few more reasons to hire us:
We've got training and experience to rival Santa's elves

You won't have to spend a whole day hanging lights yourself

Our prices aren't crazy (you're spending enough money on gifts and food and invitations)

We create incredible displays that'll make the neighbors wonder why they even try
We take great pleasure in assisting homeowners in need, and our team is always ready to lend a helping hand. If you require further information about our process, designs, or takedown service, don't hesitate to reach out to us. Feel free to give us a call, as we are here to provide you with the finest and most comprehensive assistance possible.