El Dorado Hills Christmas Lights Installation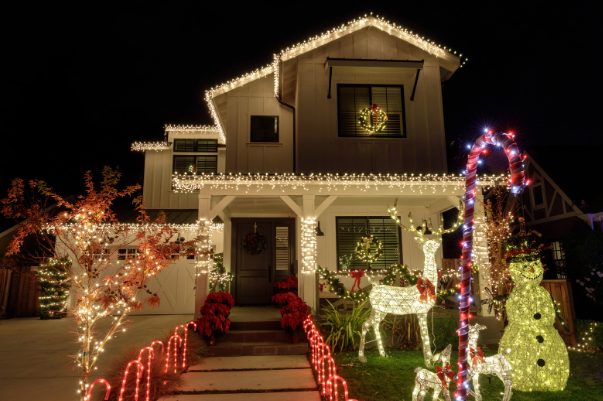 Have A Holly, Jolly Christmas in El Dorado County!
El Dorado Hills Christmas Light Installation specializes in turning your surroundings into a holiday wonderland. Our dedicated team excels at embellishing your home, business, trees, bushes, fences, and various areas of your property with a captivating display of festive lights. We offer a seamless experience, including precise scheduling for set-up and take-down, ensuring a stress-free holiday season for you. Our mission is to bring your unique vision of a perfect, holly, jolly Christmas to life, down to the last twinkling light. Let us handle the intricate details, allowing you to revel in the enchanting ambiance of the season. Get in touch with us today, and let's transform your space into a festive masterpiece that will leave a lasting impression on all who see it.
Phone: (916) 776-5162
Address:
1102 Windfield Way
El Dorado Hills, California  95762
Hours: Open daily during regular business hours
El Dorado Hills Christmas Light Installation provides 5-star service, with no waitlist, 24/7 availability, and the option to schedule ahead.
Our expertise lies in the seamless installation of lights, and we take pride in excelling at it. Leave the hassle and hard work to our capable hands, and we'll guarantee your Christmas lights are beautifully and safely set up, providing you with a stress-free and enchanting holiday season. With our skilled team taking charge of the lights, you can fully embrace the magic of the holidays without any worries or inconveniences.
Here are a few more reasons to hire us:
We've got training and experience to rival Santa's elves

You won't have to spend a whole day hanging lights yourself

Our prices aren't crazy (you're spending enough money on gifts and food and invitations)

We create incredible displays that'll make the neighbors wonder why they even try
We take great pleasure in assisting homeowners in need, and our team is always ready to lend a helping hand. If you require further information about our process, designs, or takedown service, don't hesitate to reach out to us. Feel free to give us a call, as we are here to provide you with the finest and most comprehensive assistance possible.