El Dorado Hills Christmas Lights Installation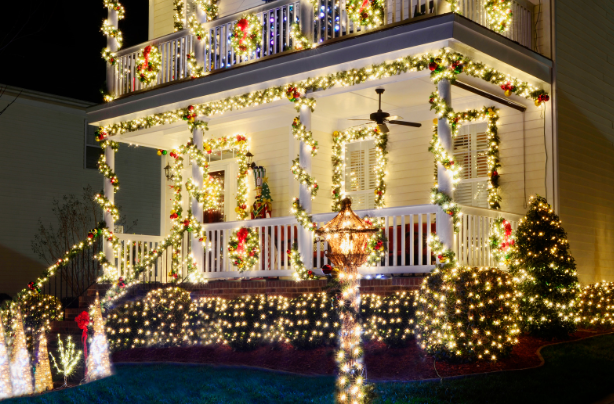 El Dorado Hills Bush Christmas Lights
Get your Christmas lights from El Dorado Hills Christmas Light Installation.
While the majestic beauty of twinkling lights on trees is a holiday staple, at El Dorado Hills Christmas Light Installation, we believe in leaving no bush unadorned. Beyond enchanting trees, our decoration packages are meticulously curated to ensure that every corner of your outdoor space, including the bushes, receives a touch of festive magic. Picture the soft glow of peace on Earth and goodwill toward all emanating from the most exquisite bush and hedge lighting imaginable. Our dedicated team goes beyond the ordinary, transforming your bushes into radiant beacons of holiday cheer.
Immerse your surroundings in the warmth of the season with our thoughtfully designed bush Christmas lights installations in El Dorado Hills. From meticulously wrapping each bush with precision to selecting the perfect lighting elements, we take pride in bringing forth a symphony of lights that turns your entire outdoor space into a winter wonderland. Elevate the charm of your landscape with our enchanting bush lighting, where every flicker contributes to a harmonious display of holiday spirit. Trust El Dorado Hills Christmas Light Installation to bring the magic of the season to every corner of your outdoor oasis, ensuring that your bushes shine just as brightly as your trees.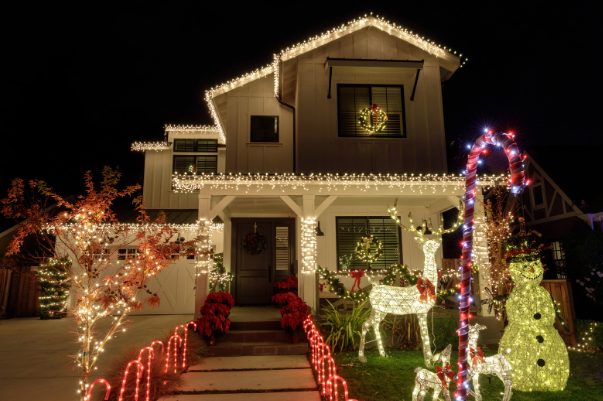 At El Dorado Hills Christmas Light Installation, we take the hassle out of holiday decorating by offering a bespoke approach to bush adornment. Simply share your vision with us during the consultation, and watch as we bring your desired look to life. Whether you crave a subtle twinkle to enhance the enchantment or desire a synchronized dance of lights to the rhythm of Burl Ives' "Holly, Jolly Christmas" or any other festive tune, our team is equipped to turn your preferences into reality.
Our experts meticulously tailor the bush decorations to your specifications, ensuring a seamless blend of creativity and precision. If you envision a soft and shimmering ambiance or a dynamic display that syncs with your favorite holiday melodies, we have the setup for that. From selecting the right bulbs to arranging them in a way that complements your landscape, our attention to detail guarantees a breathtaking transformation. With El Dorado Hills Christmas Light Installation, your bush lighting becomes a unique expression of your holiday spirit, effortlessly bringing your chosen aesthetic to the forefront and turning your outdoor space into a visual symphony of festive delight.
Commercial Lighting, Too!
Extend the enchantment of the holiday season to your commercial space with El Dorado Hills Christmas Light Installation's expert touch on bush and hedge lighting. Beyond residential settings, we specialize in transforming the greenery around customer parking areas and along front walks into captivating displays that welcome patrons with festive cheer. Our diverse range of design packages caters to various themes, ensuring that your commercial property stands out and invites business right through the door. From classic elegance to vibrant and dynamic displays, our team tailors each lighting arrangement to complement your business's identity. Additionally, we encourage collaboration, allowing you to contribute your ideas and preferences or even create a custom scheme. Illuminate your commercial exterior with the magic of holiday lights, creating an inviting and festive atmosphere that leaves a lasting impression on customers and passersby alike. Choose El Dorado Hills Christmas Light Installation for a commercial space that radiates holiday joy and draws attention throughout the festive season.
From transforming bushes into radiant displays to enhancing the greenery around customer parking and front walks, our dedication to creating enchanting lighting experiences knows no bounds. With a variety of design packages or the option to craft a bespoke scheme, we ensure your space becomes a beacon of festive joy. We also offer other services, including garlands and tree Christmas lights. Trust us to turn your outdoor areas into winter wonderlands that leave a lasting impression. Elevate your holiday season with El Dorado Hills Christmas Light Installation's expert touch and make every space shine with seasonal splendor.
Dial (916) 776-5162 today.
El Dorado Hills Christmas Light Installation provides 5-star service, with no waitlist, 24/7 availability, and the option to schedule ahead.
Our expertise lies in the seamless installation of lights, and we take pride in excelling at it. Leave the hassle and hard work to our capable hands, and we'll guarantee your Christmas lights are beautifully and safely set up, providing you with a stress-free and enchanting holiday season. With our skilled team taking charge of the lights, you can fully embrace the magic of the holidays without any worries or inconveniences.
Here are a few more reasons to hire us:
We've got training and experience to rival Santa's elves

You won't have to spend a whole day hanging lights yourself

Our prices aren't crazy (you're spending enough money on gifts and food and invitations)

We create incredible displays that'll make the neighbors wonder why they even try
We take great pleasure in assisting homeowners in need, and our team is always ready to lend a helping hand. If you require further information about our process, designs, or takedown service, don't hesitate to reach out to us. Feel free to give us a call, as we are here to provide you with the finest and most comprehensive assistance possible.